Book Review
by Russell Jaslow

Caesars Palace Grand Prix: Las Vegas, Organized Crime and the Pinnacle of Motorsport


by Randall Cannon
McFarland & Company, Inc.
ISBN: 978-1-4766-8377-5. List Price: $49.95.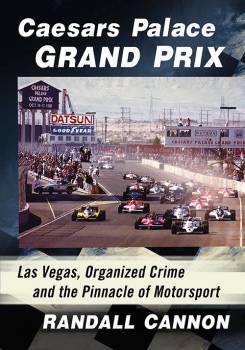 The history of Formula 1 in America has for the most part been a troubled one. At the root of this history, whether favorable or not, is money. Follow the money, as the saying goes.
Randall Cannon followed the money. From Riverside to Sebring to Watkins Glen to Long Beach and finally to Las Vegas, the heart of decadence, gambling ... and the Mob. And of course, money. He then wrote Caesars Palace Grand Prix from the breadcrumbs he found.
Extremely well written and extensively researched, racing fans will love how Cannon describes the interconnectivity of all the Grands Prix that took place in America. How Riverside beget Sebring which beget Watkins Glen. (Hint -- it was about the money.)
How the weather, rowdy fans who made English soccer hooligans look tame (they weren't satisfied with just burning cars, so they burned a bus!), a rustic "low" class destination, and of course lack of money drove F1 away from the upstate New York circuit. (Perhaps the only time Bernie Ecclestone and Jean-Marie Balestre ever agreed on anything.)
Then that money, some of it Mafia dollars, lured F1 to a "high" class destination of entertainment and gambling -- Las Vegas. Money talks, even if it meant going from a challenging undulating road course to a flat, featureless track laid out in ... a parking lot in the back of a casino.
In between was Long Beach and then Detroit, both of which had ties to some of the same unsavory characters the Caesars Palace Grand Prix depended on. Prior convictions? No problem. Current indictments? Not a concern. Links to the top Mob bosses in America? We'll look the other way. As long as the money is there and a race can be held.
However, it was that money, or lack of high end gamblers being lured to the casino by the race, which doomed it to just a two-year run for F1 followed by another two-year run by CART. It was also the high asking price by F1 which caused Long Beach and Detroit to convert to CART as well.
It was money which created absolute disastrous efforts at Dallas and Phoenix. As well as long droughts before and after Indianapolis. Then a resurrection of a proper F1 circuit in Austin, Texas followed recently by a "destination" event at Miami. And ironically, perhaps another go at Las Vegas.
Most fans know all about America's F1 history in a general sense. Cannon lays it all out in a detailed historic sense which every race fan will find fascinating, while linking many of the money matters back to the Mob and Caesars Palace. As the author says, the one percenters all do business with each other, no matter how they became a one percenter.
There are times Cannon repeats himself a bit too much. And he does sometimes make links which really aren't there -- like when he attempts to connect an infamous mob meeting which happened to take place within an easy drive from Watkins Glen even though it really had nothing to do with Watkins Glen. For some people, Cannon may go too indepth to the workings and history of the Mob, Las Vegas, and Atlantic City, though, others may find this the most interesting part of the book. But the book is so well written and fascinating, these can be passed off without much annoyance.
America has had more venues for F1 than any other country (10 going on 11). No country has had more F1 races in a single season than America (3, though Italy tied that during the pandemic of 2020). No country has had as many failed events lasting three years or less than America (5). And no country has had as many fallow periods.
Cannon explains it all and links it to one main source -- money -- in the Caesars Palace Grand Prix.
Copyright © 2022 by . All Rights Reserved.