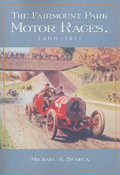 Order this book today

HOME

About Us

Articles

Book Reviews

Records/Stats

Links


PHOTO CREDITS
Left: The Locomobile Type 1906, "Old 16", driven by George Robertson on its way to winning the 1908 Vanderbilt Cup on Long Island.
Center: Action during the 1916 Vanderbilt Cup event at Santa Monica with William Bolden (#12) leading Omar Toft.
Trans-Am Drivers' and Manufacturers' Champions
Year
Driver Champion
Manufacturer Champion
1966
H. Kwech/G. Andrey*
Ford
1967
Jerry Titus*
Ford
1968
Mark Donohue*
Chevrolet
1969
Mark Donohue*
Chevrolet
1970
Parnelli Jones*
Ford
1971
Mark Donohue
American Motors
1972
George Follmer
American Motors
1973
Peter Gregg
Chevrolet
1974
Peter Gregg
Porsche
1975
John Greenwood
Chevrolet
1976
Jocko Maggiacomo (I)
American Motors
George Follmer (II)
Porsche
1977
Bob Tullius (I)
Porsche
Ludwig Heimrath, Sr. (II)
Porsche
1978
Bob Tullius (I)
Jaguar
Greg Pickett (II)
Chevrolet
1979
Gene Bothello (I)
Chevrolet
John Paul, Sr. (II)
Porsche
1980
John Bauer
Chevrolet
1981
Eppie Wietzes
Chevrolet
1982
Elliott Forbes-Robinson
Pontiac
1983
David Hobbs
Chevrolet
1984
Tom Gloy
Lincoln-Mercury
1985
Wally Dallenbach, Jr.
Lincoln-Mercury
1986
Wally Dallenbach, Jr.
Lincoln-Mercury Merkur
1987
Scott Pruett
Lincoln-Mercury Merkur
1988
Hurley Haywood
Audi
1989
Dorsey Schroeder
Ford
1990
Tom Kendall
Chevrolet
1991
Scott Sharp
Chevrolet
1992
Jack Baldwin
Chevrolet
1993
Scott Sharp
Chevrolet
1994
Scott Pruett
Ford
1995
Tom Kendall
Chevrolet
1996
Tom Kendall
Ford
1997
Tom Kendall
Ford
1998
Paul Gentilozzi
Chevrolet
1999
Paul Gentilozzi
Ford
2000
Brian Simo
De Tomaso
2001
Paul Gentilozzi
Jaguar
2002
Boris Said
Ford Mustang
2003
Scott Pruett
Jaguar
2004
Paul Gentilozzi
Jaguar
2005
Klaus Graf
Jaguar
2006
Paul Gentilozzi*
Jaguar*
2009
Tomy Drissi
Jaguar
2010
Tony Ave
Chevrolet
2011
Tony Ave
Chevrolet
2012
Simon Gregg (TA)
Chevrolet
Bob Stretch (TA2)
Chevrolet
Chuck Cassaro (GGT)
2013
Doug Peterson (TA)
Chevrolet
Cameron Lawrence (TA2)
Chevrolet
Chuck Cassaro (TA3-A)
Porsche (TA3)
C. David Seuss (TA3-I)
2014
Doug Peterson (TA)
Chevrolet
Cameron Lawrence (TA2)
Chevrolet
Ernie Francis, Jr. (TA3-A)
Chevrolet
Jerry Greene (TA3-I)
Chevrolet
2015
Amy Ruman (TA)
Chevrolet
Gar Robinson (TA2)
Chevrolet
Ernie Francis, Jr. (TA3-A)
Chevrolet
Lee Saunders (TA3-I)
Dodge
2016
Amy Ruman (TA)
Chevrolet
Tony Buffomante (TA2)
Ford
Randy Mueller (TA3)
BMW
Ernie Francis, Jr. (TA4)
Ford

* - Driver's Championship was not officially installed until the 1971 season. Thus, these are unofficial driver champions. No titles were awarded in 2006.


Trans Am Tidbits

1966: First Trans-Am race held on March 25 is won by Austrian formula one driver, Jochen Rindt, in an Alfa GTA at Sebring.

1967: Dan Gurney beats Parnelli Jones in the closest Trans Am race at Green Valley Raceway by three feet.

1968: Mark Donohue won 10 of 12 races, including eight in a row.

1970: Parnelli Jones beats Mark Donohue by one point.

1974: Only three races are run.

1976-1979: The series is split into two categories -- the slower Category I and faster higher tech Category II.

1977: Championship decided in the courts as Peter Gregg's Category II win at Mosport was disallowed, reinstated, and finally disallowed.

1978: Bob Tullius wins the last seven races in a row in Category I.

1982: Paul Newman's first of two career Trans-Am wins comes at Brainerd. His other win is at Lime Rock in 1986.

1985: Youngest driver champion at age 22.

1988: Only all-wheel drive car to win the manufacturers' title.

1997: Tom Kendall wins a record 11 consecutive races (longest documentable win streak in world-wide professional road racing) en route to a record third straight championship and a record fourth overall.

1998: Paul Gentilozzi becomes second driver to win back-to-back championships driving different cars (Chevrolet Corvette, Ford Mustang Cobra). Wally Dallenbach Jr. was first to do it in 1985-86 (Capri, Camaro).

2004: Paul Gentilozzi becomes second driver to win four championships. Closest finish ever -- Gentilozzi ties Tommy Kendall on points; wins tie-breaker of most wins (5-2).

2007: The Trans-Am Series was put on hiatus for two years.

2011: Amy Ruman becomes first woman to win Trans-Am race (Road Atlanta).

2012: The series is split into three classes. No GGT manufacturer champion is awarded.

2013: The series is split into four classes, but only one TA3 overall manufacturer champion is awarded in 2013.

2015: Amy Ruman is first woman to win a North American pro series championship.